Mountain Transport Institute's owners believe in making contributions to the communities where MTI operates. MTI supports a number of local groups and initiatives. We are proud to be a part of our communities.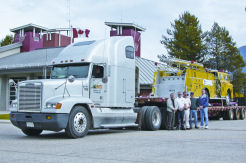 Castlegar Fire Truck
– When the Castlegar Fire Department purchased a new truck, the Castlegar Rotary club chose to send the old one to help a community in Honduras that did not have a fire truck. The Rotary club had the truck serviced prepared for transport. MTI donated it's services (tractor, flat deck, and driver) to move the fire truck from Castlegar to the docks in Vancouver where it was shipped to its new location.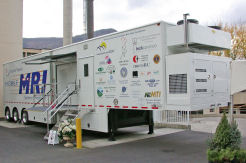 Mobile MRI
– The mobile MRI was purchased by the Interior Health Authority in conjunction with local fundraising groups in the Southern Okanagan, East and West Kootenay. The $2.6 million MRI unit is contained in a 53 foot trailer and is moved between Trail, Penticton and Cranbrook on a regular schedule. MTI donated its services (tractor and driver) to move the MRI between the three hospitals for the first year.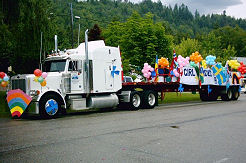 Sunfest Parade
– MTI donated a tractor, flat deck and driver to the local Girl Guides and the SHSS and J Lloyd Crowe high school bands for their floats in the annual Castlegar Sunfest Parade.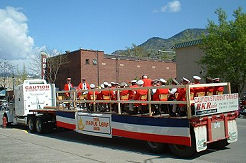 Silver City Days
– The Maple Leaf Band has been an active community band in Trail, BC since 1917. Some of the members are elderly and find it difficult to march in the Silver City Days parade so MTI helped out with a flat deck trailer and tractor to transport the band during the parade.
Other local groups and organizations have also received assistance from MTI providing free delivery of items, like apples and turkeys and Christmas trees, for their fund raising events. Such groups include the Castlegar Aquanauts, the Children's Orchard Russian Exposure Preschool, the United Church of Castlegar, the SHSS Grad class of 2004 and the Castlegar Evening Rotary club.
MTI, along with AM Ford of Trail, donated two new AED – Automatic Electric Defibulators – which are now being utilized by Castlegar & District Recreation & Aquatic Centre and the Pioneer Arena.
MTI has provided bus transportation for the annual Pass Creek Fall Fair, variety of golf tournaments,