We now offer part-time New Driver Training for those who want to start or upgrade their car driving skills. This training is provided on a first-come, first-served basis and you must have a valid Class 5 or Class 7 licence or learner's. We offer training in Castlegar, or 90-minute minimum length lessons in Nelson or Trail. Students are asked to review and adhere to our training standards before they begin training – including having their original Learner's Licence or Foreign Licence on their person for each lesson.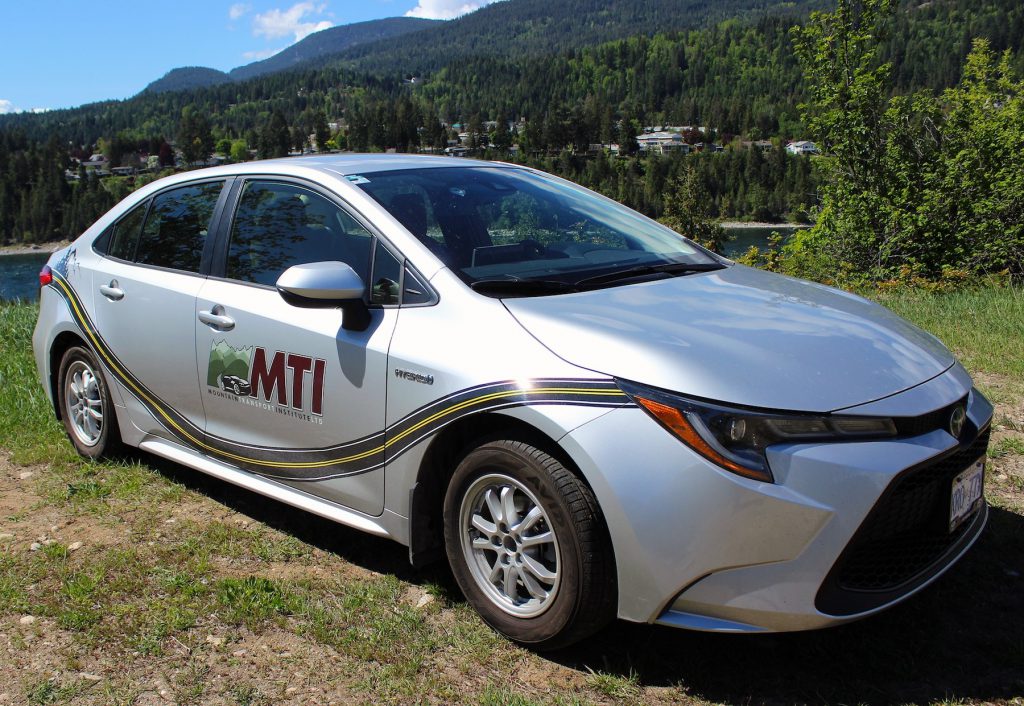 Here is the list of training packages currently available:
NEW DRIVER TRAINING PACKAGE #1:
• 14 Hours On-Road training/driving – $999 + GST
This package starts you from the beginning and builds your skills and confidence up through to the ICBC road test. From your very first adjustment of the driver seat and a trip around the block, to working your way in to traffic as well as busy city driving up to and including a drive on one of the area highways. We are laying the foundation of strong driving habits that will carry you beyond simply passing the road test to all of the freedom and independence of being a safe driver and travelling where you want when you want! As with all our training, if you require additional hours to brush up certain skills or because you do not have the ability to practice, they are always available for purchase.
– Add our Road Test Prep Package for $189 + GST
– Add our Classroom Defensive Driving Course (5 hours) for $79 + GST
NEW DRIVER TRAINING PACKAGE #2:
6 Hours On-Road training/driving – $449 + GST
This package works well as a refresher before your class 5 road test or as supplement to your personal progress towards your Class 7 license. Our professional instructors will help you polish your skills and work on the finer points of driving as required. These lessons may be booked as combination of 60-minute and/or 90-minute sessions.
– Add our Road Test Prep Package for $189 + GST
– Add our Classroom Defensive Driving Course (5 hours) for $79 + GST
INDIVIDUAL LESSONS:
• 60 Minutes for $89 + GST / 90 Minutes for $125 + GST
Lessons can be either 60 minutes or 90 minutes in length. Early in Class 5 Driver Training, a 60-minute lesson may be enough if you are still learning lots of new skills; it will give you enough new things to practice with your "co-pilot" before you come back to learn more new skills. As your skill set grows, 90-minute lessons will allow you to go for longer drives and experience more challenging traffic situations to increase your comfort and stamina in the driver's seat. If a longer highway driving lesson is wanted, we can book 2 consecutive 60-minute lessons to allow for that. Our instructors will customize each lesson to match your current skill level, help you polish those skills and advance you to the next level in your driving.
ROAD TEST PREP PACKAGE:
• Includes use of MTI vehicle – $219 + GST
As part of this package we will pick you up and provide a warm-up drive to shake off the road test day jitters. We will also advise you on how best to book your ICBC road test – note that there is quite a back-up currently and it can be a little tricky. Get in touch with us for more info. Once you are finished, we will return you back to home, school or work. Using MTI's vehicle ensures that there are no surprises on your big day as we guarantee that our vehicle will meet ICBC's strict requirements for road test vehicles. This package is available to anyone who has taken at least one 90-minute lesson with us and it can be added on to Package #1 or Package #2 at a discounted price (see above).
MOUNTAIN HIGHWAY DRIVE LESSONS:
• 2-Hour Session for $169 + GST / 3-Hour Session for $249 + GST
Living in the Kootenays, you are heading up or down a steep hill or mountain regardless of which direction you drive. This mini course will take you out on an area highway to gain some experience traveling at highway speed along with learning how to safely control your vehicle while descending steep grades. Preserving your brakes, obeying increased following distances and being prepared for the unexpected are all skills that you will benefit from by learning and practicing. We recommend at least a 2-hour lesson for this trip; you can schedule a longer lesson or multiple lessons if you would like. This is also a great refresher to take in the winter to build your confidence when driving in adverse conditions.
RE-TEST / UPGRADE / SENIORS PACKAGE:
• Two 90-Minute Lessons – $229 + GST
From time to time, drivers are contacted by ICBC to come in for a re-test of their driving skills. This may occur as a result of an incident, a medical condition, returning from an extended period of living overseas or just because you are lucky enough to have reached an age where ICBC wants to check up on your skills. If it has been a while since you've taken a government road test, you are going to find that their expectations have changed since last time. Not driving as much as you used to and/or feeling uncomfortable while driving would be other reasons to book this training package.
Let our expert instructors bring you up to date on the latest techniques used to drive safely and successfully on today's busy roads. We recommend that you take this training in our modern training vehicle, but if you would prefer to use your own car – we can discuss that as well. Once our instructor assesses your current skill level, they will work with you to brush up on any skills that you may need help with, and ensure your defensive driving skills are up to date. If you require more than the two 90-minute lessons in this package, we can schedule additional lessons as needed.
– Additional Lessons (90 minutes each) – $115 plus GST
– Add our Road Test Prep Package for $189 plus GST
– Add our Classroom Defensive Driving Course (5 hours) for $79 plus GST
WINTER (ADVERSE CONDITIONS) DRIVER TRAINING:
*Available from November until March every year*   
Kootenay life allows us to fully experience all four seasons to the fullest, and each of those seasons bring their own specific set of driving challenges. The most dramatic difference from a "normal" day of driving occurs from late Fall until early Spring. Far too many people lose their lives or are badly injured in accidents that occur while travelling on adverse road conditions in our area, whether it be due to any fault of their own – or just a case of being in the wrong place at the wrong time. From the newest driver to the experienced veteran commercial vehicle operator, everyone has a variety of skill levels when it comes to dealing with adverse conditions, questions and things we do not know or forgot about. This program consists of a classroom facilitated training session, as well as on-the-road lessons and an opportunity to receive instruction in your own vehicle, if you prefer, and so long as you have your full Class 5 Licence. We can also review the type of safety systems your vehicle has, and how they should respond in adverse road conditions.
– 2-Hour On-Road Course $169 + GST / 3-Hour On-Road Course $249 + GST
– Classroom portion is a free addition (held annually, in late fall)
– Review your vehicle systems and winter preparedness in the MTI Yard – $25 + GST
TRAINING STANDARDS:
All students undergoing driver training must be well-rested, alert, and completely sober for their appointment. Students must also adhere to basic hygiene standards and be aware of any unpleasant or incriminating odours. The original Learner's Licence must be present (no photocopy or digital copy), and we do not allow anyone else in the vehicle during the lesson.
CANCELLATION / RESCHEDULING POLICY:
MTI requires a minimum of two business days notice in order to cancel or reschedule any Class 5/7 driver training session. You can text, email or call to give us notice.
If enough notice is given, we can cancel / reschedule your lesson to a time in the near future that works for you. If you do not give proper notice, the lesson / lesson fee is forfeited.
GRADUATED LICENSING PROGRAM – Under Development
• MTI will be offering the Graduated Licensing Program in the near future. We are currently creating and fine-tuning our curriculum that will then need to be approved by ICBC's Driver Training and Certification branch. Once we receive our initial approval, we will be running a pilot course for ICBC to attend an give us our final approval. We will update this page when we have a better idea of exact dates.
Book your ICBC Appointments: Road Test / Knowledge Test
MTI has a COVID-19 Safety Plan in place
Please contact MTI for any further information regarding Class 5 driver training and scheduling:
PHONE: 250-365-3748
TOLL FREE: 1-877-965-3748
EMAIL: info@drivemti.com