Successful graduates: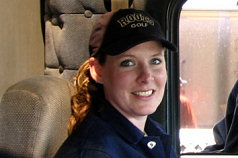 show up on time, ready to work and learn;
listen and work diligently to apply the concepts they are taught;
are not afraid to make a decision or to jump in to get the job done;
all have a "can-do" attitude.
The MTI Way Platinum is a challenging program and the right attitude is important to be a successful graduate. You will spend full days in the classroom and the trucks. You are expected to give 100%, and in return you will receive the best professional truck driver training available. Our instructors are all experienced professional drivers and will work with you to give you the skills and knowledge you need to succeed. As long as you make the effort they will do everything they can for you. The program takes an average of 12 consecutive weeks of scheduled training to complete. The first 8 weeks take place at MTI, followed by 4 weeks driving with a coach/mentor in a working company truck.
The first 8 weeks consists of a minimum of 120 hours in the classroom/lab, 85 hours + behind the wheel/in the yard, and 60 hours + in truck observation time.
There are written assessments and one final evaluation, which the students MUST pass with at least an 80% grade. We also administer 17 skills evaluations throughout the course to prove mastery in the driving skills taught. The constant evaluation of the students assures only those committed to a professional driving career will succeed, which puts our graduates in high demand.
Prior to investing in any program, talk to your potential employer to ensure they will hire you after successful program completion. A course that gets you a licence but not a job is very expensive!
Successful students in all of the evaluations will qualify to advance to the Coach Mentor Program (CMP). The preparation for the CMP segment will allow individual students to establish contact with prospective employers. The CMP takes place over 4 weeks and consists of a minimum of 100 hours behind the wheel with a sponsoring employer. CMP is provided by a sponsoring transport company with their coaches/employees. Employers expect students to be committed to a long-term career (2+ years) with them prior to accepting a free of charge CMP placement. We strongly advise that you complete extensive research into the type of job (local, regional, long-haul) that you so desire. MTI happily assists all successful CMP students in identifying which carriers offer the type of work they are seeking, enabling them to determine the best suitable carriers.