Why The MTI Way Platinum program?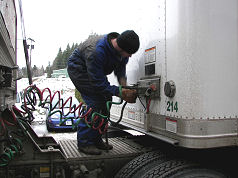 As a graduate of The MTI Way program you will qualify for a job with one of MTI's partner companies.
To have the ability to be employed full-time, with a well paying job & reputable company you need to be a graduate from The MTI Way Platinum program. That's right, just getting a Class 1 licence won't get you a good job but The MTI Way Platinum will get you started on a career with a reputable company.
MTI's expertise is recognized by many quality carriers as second to none. We will not compromise safety or lower our standards for anyone. Our grads* have great skills and that's why they get great jobs!
* To qualify as an MTI Way grad you must successfully complete all 3 Phases of The MTI Way program.